WOMEN'S WAY 44th Annual Celebration – Tickets now live! 
The Annual Celebration is WOMEN'S WAY's signature annual event, and is one of the most highly anticipated and attended non-profit events in the Greater Philadelphia region. This year's focus for our 44th Annual Celebration will be The Way Forward: The Power of Solidarity as we honor women whose work reflects a commitment to the values of equity and justice.  This will be a virtual celebration.
WOMEN'S WAY 44th Annual Celebration
The Way Forward: The Power of Solidarity
A Virtual Celebration
May 11, 2022
5:30 – 6:30 PM EST
At this year's celebration, we will present the Lucretia Mott Award to Dr. Ala Stanford, MD, FAAP, FACS for her work as a pediatric surgeon and founder of the Black Doctors COVID-19 Consortium to address health disparities in Black communities during the COVID-19 pandemic. We will also present the Gender Equity Champion Award to Paula Crowley for her long-term support of WOMEN'S WAY and her commitment to the advancement of women, girls, and gender equity.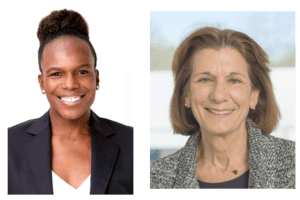 Featuring a performance by Philly-based futuristic fusion project, Interminable, inspiring stories, and keynote speeches from our honorees, join us on May 11th for WOMEN'S WAY'S largest fundraiser of the year as we raise crucial funds to support our work in the movement towards gender and racial equity.
WOMEN'S WAY gratefully acknowledges our current Corporate Sponsors:
Gold:  Ballard Spahr LLP
Bronze: Comcast NBCUniversal, FS Investments, M&T Bank/Wilmington Trust, PECO, Thomas Jefferson University & Jefferson Health
Copper:  Cozen O'Connor P.C.,  Fox Rothschild LLP, Klehr Harrison Harvey Branzburg LLP , Ogletree Deakins
Friends Circle:  Zenith Wealth Partners
Thank you to our Tribute Committee Sponsors: