WOMEN'S WAY TO HELP 25,000 WOMEN BUILD WEALTH
When we lift women up, we lift families up, we lift communities up, and all of society benefits. This is true in the United States and around the globe. This is more critical than ever following the economic recession in 2020 due to COVID-19 that worsened the already weakened financial reality of women who made up 60% of job losses during the pandemic.
That is why the Gender Wealth Institute (GWI) was formed by WOMEN'S WAY, the region's leading organization dedicated to the advancement of women and girls. GWI aims to close the gender wealth gap in the Greater Philadelphia region by advancing research and practical solutions that build wealth for women who are economically insecure. This will be accomplished through: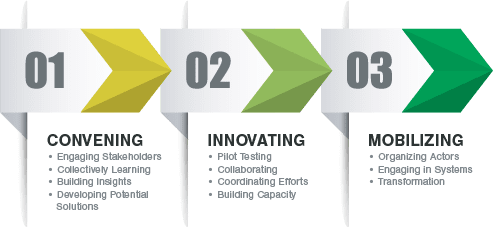 GWI Objectives
Build a learning community of stakeholders representing multiple sectors to learn together, share resources, and co-create wealth-building practices
Test and scale promising practices that build wealth for low-wealth women and close the gender wealth gap
Leverage local, regional, and national partners to take organized action focused on transforming interrelated systems related to wealth
Five Priority Areas of Intervention

A CALL TO ACTION
The Gender Wealth Institute is poised to make immediate and long-term impact because its foundation for change has been developed and tested over the past four years, including its approach to change (i.e., convening, innovating, and mobilizing) and a network of more than 80 partners who are working together to improve the economic security of women across our region. GWI's top five priorities are already in motion and with your investment, together we can deepen and expand our impact now and into the future.
OUR FUNDRAISING GOAL
The 5-year results of the GWI will be building the capacity of 300 organizations to positively impact the economic security of 25,000 women in the Greater Philadelphia region. To reach this goal, WOMEN'S WAY will raise $5 million.
WOMEN'S WAY previous and current economic security initiatives have been funded by local, regional, and national funders including the Bill and Melinda Gates Foundation, BLBB Charitable, Comcast NBCUniversal Foundation, Green Family Foundation, Forman Family Foundation, HFGF, M & T/Wilmington Trust, Robert Wood Johnson Foundation, and the Wells Fargo Foundation.
For more information on how to support our fundraising efforts,
please contact Diane Cornman-Levy, Chief Disruptor, at dcornmanlevy@womensway.org