Recap: 44th Annual Celebration
The Way Forward: The Power of Solidarity
On May 11th, we held our 44th Annual Celebration, The Way Forward: The Power of Solidarity, our signature annual event, and one of the most highly anticipated and attended non-profit events in the Greater Philadelphia area! We are so grateful for each and every one of you (over 400 individuals!) who joined us to uplift the power of solidarity. Thanks to your generous support, we were able to raise $204,000 this year! We couldn't have done it without you.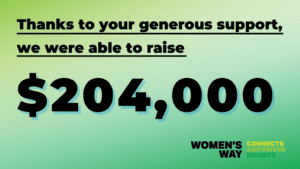 This year's Lucretia Mott Honoree was awarded to Dr. Ala Stanford for her incredible work as the founder of Black Doctors COVID-19 Consortium which has worked on the front lines throughout the COVID-19 pandemic to ensure health equity in testing and vaccine distribution. Dr. Stanford was even highlighted on NBC10 for her receipt of the Lucretia Mott Award at the 44th Annual Celebration:
We also presented the Gender Equity Champion Award to Paula Crowley for her long-term support of WOMEN'S WAY and her commitment to the advancement of women, girls, and gender & racial equity. Additionally, in a beautiful tribute, we honored the life and legacy of Lynn Yeakel. (Want a full recap of the 44th Annual Celebration? Check our our full program book here.)
What does solidarity mean to you?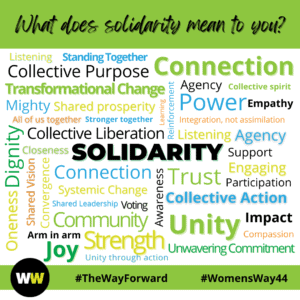 During this year's celebration we asked, "What does solidarity mean to you?" and these were some of your responses: Joy, Strength, Collective Action, Dignity, Shared Vision and Transformational Change. In fact, we received so many responses, we couldn't possibly fit them on one word cloud! Revisit the entire list here.
In the post-event networking session, we also reflected on how we would all use the power of solidarity to strengthen the fight for gender and racial equity. These were the responses we received.
Let us know how you plan to continue uplifting the power of solidarity:
Engage with us on Instagram, Facebook, Twitter and LinkedIn and let us know your takeaways from the event using the hashtags, #TheWayForward  and #WomensWay44!
Didn't get a chance to donate? It's not too late! Make a contribution here.