About
WESI'S SHARED PRIORITY GOALS
WESI stakeholders have identified five priority areas:
1. Improve & Coordinate Services. Expand access to services that ensure that women and families 1) get their basic needs met and 2) are supported through economic transitions in empowering and respectful ways.
2. Change the Narrative. Change the personal and public narratives about economic insecurity, including creating a transformative awareness that racial and gender disparities are due to foundational and systemic discrimination and policies.
3. Increase Access to Good Jobs. Work with businesses, nonprofits and governments to improve access to, and numbers of, jobs that allow women to achieve financial well-being.
4. Transform Philanthropy. Establish an equitable and community-driven approach to grantmaking that 1) supports and incentivizes organizations to build high-quality programs, invest in innovation, and engage in long-term, multi-sector collaboration; 2) builds community power; and 3) shares learnings with other funders.
5. Increase Representation. Intentionally recruit and support women, especially women of color and women with the lived experience of economic insecurity, to lead and participate in all WESI groups and committees.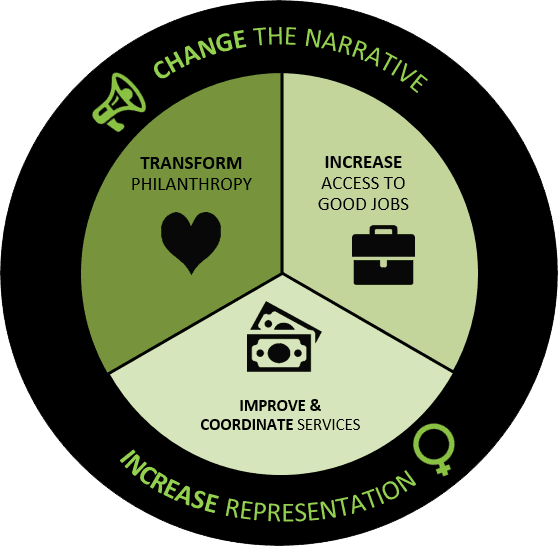 STRUCTURE
WESI's structure consists of the following entities, all of which include representatives from business, government, nonprofits, philanthropy, and women with the lived experience of economic insecurity:
The Steering Committee, the principal oversight body for WESI
The Financial Health Work Group, which works to improve access to financial services in the region
The Strengthen Jobs Work Group, which works to improve access to sustainable jobs that enable women to achieve financial well-being
The Change the Narrative Work Group, which works to change the public and personal narrative about economic insecurity
The Community Conversations Peer Group, a peer support and dialogue group made up of women who have experienced or are currently experiencing economic insecurity
For more information about the Women's Economic Security Initiative or to get involved, please contact:
Camille Nickow
(215) 985 – 3322 ext. 227
cnickow@womensway.org