Equity
WESI is deeply committed to equity and inclusion. Below, we detail some of the ways in which we are working toward achieving equity in our work.
Equity Principles

Equity Audit
In 2019, WOMEN'S WAY conducted an innovative equity audit of WESI that sought to uncover, recognize, and change inequities that are internal to the WESI collective. We partnered with Strategy Arts to build an equity audit tool for collective impact that would discover effective tactics and approaches to improve our equity practices. Given WESI's focus on women with economic insecurity, Strategy arts hired two women with lived experience who were already involved with WESI as Equity Audit Trainees to help develop the tool, conduct the audits, and facilitate a learning and improvement session.
Please read the final report from our WESI Equity Audit here.
Racial Equity Workshop
Through our equity audit, participants identified an important opportunity for WESI members to do more work on issues around racial equity, white supremacy, and racial justice. To support our commitment to racial justice and to sharpen our ability to actively move this commitment into action, WOMEN'S WAY hosted a 2-day training for staff and partners in October of 2019. The training was led by Deidre Ashton and Sarah Halley, a cross-racial team of consultants who specialize in racial justice workshops. 26 partners attended the workshop.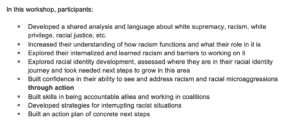 Public Events & Articles on Equitable Community Engagement
WOMEN'S WAY has sought and continues to seek out opportunities to share what we have learned about equitable community engagement through WESI's work. In May of 2019, WOMEN'S WAY and Strategy Arts led a session titled "Operationalizing Equity in Collective Impact through Community Engagement" at the Collective Impact Forum's 2019 Convening in Chicago, IL.
Additionally, Diane Cornman-Levy recently co-wrote an article along with Cynthia Estremera and Elizabeth Guman from Strategy Arts and Tashell Stevenson (a WESI partner who is also a woman with lived experience) titled, "Advancing the Economic Security of Women through Equitable Community Engagement." The article is now published in the Social Innovations Journal, a peer-reviewed journal.
Read the article here.
Community Conversations
Community Conversations (CC) is a peer support and dialogue group made up of women in the Philadelphia region who have experienced or are experiencing economic insecurity. The group meets every 2-3 months to talk about their paths to economic independence, share stories and resources, and seek support and encouragement from others. All conversations are confidential.

For more information about the Women's Economic Security Initiative or to get involved, please contact:
Kelly Sheard
(215) 985 – 3322 ext. 227
ksheard@womensway.org